Chic and Cheap hotels in Vienna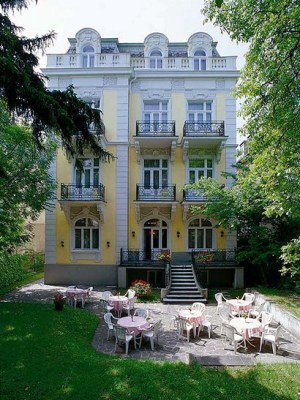 Vienna, the largest city in Austria, is known as "The City of Dreams", because it was the home of Sigmund Freud, the famed psychoanalyst. But it takes no analysis to realize that this historic metropolis is teeming with grand parks, castles, restaurants, shops and culture for every psyche... über-or not-so-wealthy. One cannot think about Vienna without music coming to mind. From Mozart, to Beethoven, Mahler to Haydn, to the world-known choirs and operas, Vienna is the source of many of the world's most famous composers, conductors and singers.
With so many options, Vienna is the ultimate tourist destination for any budget, and there are accommodations that are inexpensive, convenient and comfortable to be found at any location. Here are a few cheap Vienna hotels that fit the bill:
Best for City Centre
The Tourotel Mariahilf hotel, situated in a historic Baroque-style building, is located at Mariahilfer Strasse 156, only five stops away from the historic old town section of Vienna and a five-minute walk to the Westbahnhof. It is also very close to the Mariahilferstrasse, the largest shopping street in town.
Accommodations include a cable television, safe, shower and toilet or bathtub and WC, hairdryer and telephone. Most of the spacious rooms face a lovely and quiet courtyard.
Best for Convenient Transportation
The Hotel Cryston, at Gaudenzdorfer Gürtel 63, is a grand hotel without a grand bill! Built in 1907, it is a typical Vienna hotel, with an imposing and beautiful creamy yellow facade. A family-run hotel, it's conveniently located between the Schonbrunn Palace and Karlsplatz, and the U4 Margaretengürtel is just across from the hotel. Amenities include: free parking, buffet breakfast featuring "Life Water", shower and toilet or tub/toilet, satellite TV, telephone, hairdryer, and room safe.
Best for Quiet
Located at Viriotgasse 5, the Hotel Arkadenhof is a contemporary hotel situated in the heart of Vienna and offers 35 rooms and 10 suites. It is near many metro stops, yet in a quiet neighbourhood without heavy traffic.
Amenities include: television, bathroom phone, minibar, hotel bar, and breakfast buffet.Only minutes away from the city center, it's a little oasis of comfort.
Best for Families
Ahhh, the ultimate B&B right next to the Vienna Airport! The Das Reinisch Bed and Breakfast Vienna Airport Hotel at 76 is affiliated with the Das Reinisch Hotel Vienna yet provides a more intimate and home-like atmosphere for those who plan on staying in the Vienna area for more than just a night.Perfectly located in Vienna Schwechat Mannswoerth, it's just about 8 miles from the city center and about 2 miles from the airport.
Amenities include those for the hotel itself (just down the street). There is a bar, restaurant with a winter garden and summer terrace, a fitness center, sauna, steam bath and conference rooms. There is unlimited Wi-Fi access, as well as satellite TV, in-room safe, shower/toilet and organic wood furniture.
Best for Country Style
The Hotel Park Villa, at Hasenauerstrasse 12, looks like a decadent Viennese pastry, with its buttercream-colored facade decorated with wrought-iron embellishments. It is centrally located, yet in a quiet, lovely residential area, only 12 minutes away from the city center. All the rooms offer satellite TV, telephone with voice mail, free Wi-Fi, mini-bar and private bath and shower. Many of the rooms also have adjoining balconies. A superb breakfast buffet, as well as afternoon tea/coffee is served in the salon and garden.
Questions about Vienna hotels?
If you have questions about any of the hotels mentioned above or about other Vienna hotels, the professional tourist guides of Wien Führungen would be pleased to provide you with any information you might need. And of course, we are ready to pick you up at any hotel in Vienna for our Vienna sightseeing tours. To book your personal tourguide to Vienna, please write us to or call us (Monday to Friday, 9 AM - 5 PM, Central European Time) at our office phone number +43 1 966 02 61.